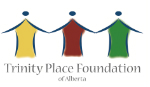 The Goal: As TPFA's communications partner, we work with the team to identify powerful stories that help us educate a broad Calgary audience about the special work being done by the management and staff of TPFA to advocate for low-income seniors.
The Project: As one of Calgary's largest providers of independent seniors housing, Trinity Place Foundation of Alberta (TPFA) has as many captivating stories as they have residents. Momentum has established a strong relationship with the staff so that we are able to tell the TPFA story to the broader public, and enhance awareness of the organization's work with examples of how a 'more than housing' philosophy is helping inspire programs to ensure low-income seniors are thriving at home.
The Result: Through ongoing strategic communications planning with TPFA, Momentum has implemented several strategies to highlight TPFA's innovative approach to providing more than housing. Elements of the plan have included a quarterly newsletter to build community among residents, frequently approaches media with stories about TPFA's residents and initiatives, and events from groundbreakings to funding announcements.